In the ever-evolving world of social media, where every move is scrutinized and discussed, Blessing Lung'aho recently found himself in the spotlight once again.
Blessing Lung'aho,Kenyan actor and model, known for his past relationship with actress Jacky Matubia, stirred up a storm on the internet with a simple photograph.
He posted on his Facebook page a photo alongside a beautiful lady, both donned in matching white and blue tracksuits, oozing style and charisma.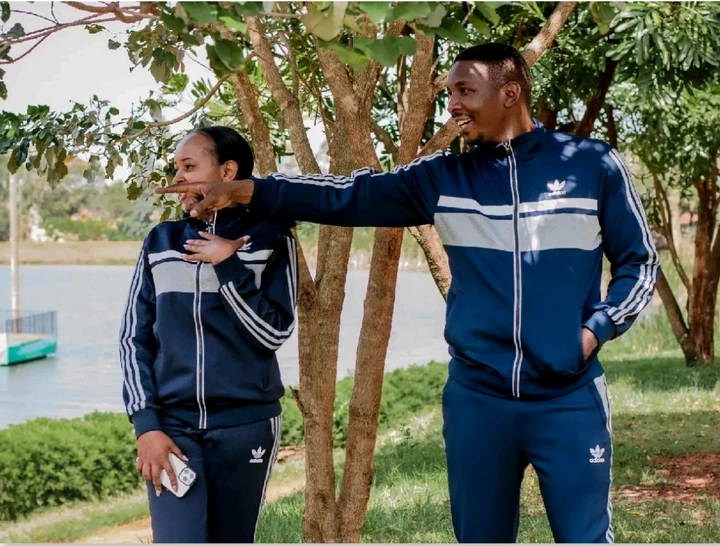 It's been only a few months since the break up of Blessing and Jacky's  was publicized, and this picture sent the internet into a frenzy, and netizens wasted no time in sharing their mixed, often hilarious, reactions.
Here are some of the entertaining reactions that caught our attention:
@Cony Osteen humorously advised, "Move on, be happy, and keep those matching tracksuits!"
@Hilly Shanzu jokingly exclaimed, "When it has, it has!"
@Musa Jabu shared a thoughtful insight, "Lessons must be learned."
@Renah Kush playfully quipped, "I hope you used soap for this!"
@Kiio Maureen Moh couldn't help but notice, "Even the child's umbilical cord hasn't healed, and you're already moving on!"
@Ka Muge added a touch of humor, "You all are 'moving on' while still in relationships!"
@Sharon Gwehona couldn't resist adding a dash of drama, "Early is best! You move on, no more stories, while Jacky is typing and deleting!"
Blessing has maintained a somewhat low profile since the rumors of their breakup surfaced. However, he did post a video on social media where he mentioned having the flu and advised his fans to stay warm during the cold weather.
This brief appearance did not go unnoticed by netizens, who couldn't help but wonder if his health and style choices were indicative of his relationship status.
On the other hand, Jacky Matubia has been more forthcoming about her life post-breakup. She took to social media to reveal that she is now a single mother of two, confirming the end of her relationship with Blessing.
This revelation added another layer to the already complex web of speculations surrounding their split.
The former couple, often referred to as a social media power couple, had always been an inspiration to their followers.
As the internet continues to buzz with speculations and reactions, Blessing Lung'aho remains tight-lipped about his relationship status and future plans.